Teaching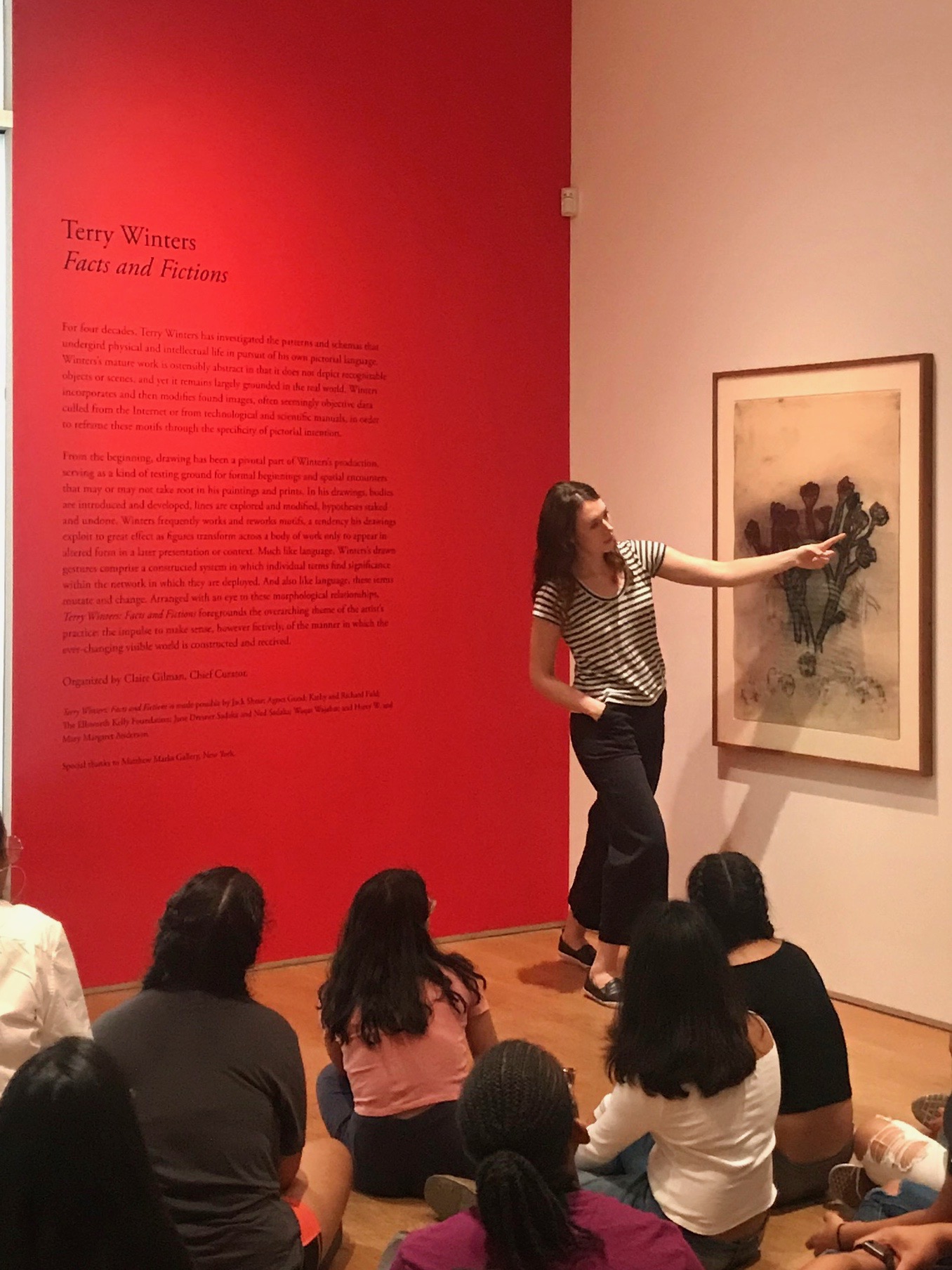 above: teaching at Odyssey Clayworks in 2019 (left) and The Drawing Center in 2018
I'm in the unique position of being equipped to teach both fine art and topics in art writing, theory and history: besides being a practitioner in both, I hold a BA in English and Studio Art and an MFA/MS in Fine Arts and Art History. As I've concentrated recently on work ceramic sculpture, in recent years I've focused on teaching that to adults in community studios in addition to teach art/crafts to children and teens.
VALUES
My practice of teaching art is motivated by an awareness that artistic practices can be modes of discovery in their own right
. With regards to the teaching of art history and theory I value how works of art can serve as concrete, sensory encounters with values and ideas, prompting collective discussion and speculation.
With respect to a relationships to our materials, research, and personal vision,
I value the imperative to "go to the source," whether the source in question is psychic, social or material
. I might encourage a painter who wants to find her vision to try working from life rather than from photos, or a researcher keen to discover something new to conduct interviews and collect evidence rather than rely on secondary sources. Teaching ceramic sculpture, I've structured exercises that help students tap into the intuitive source of their creative power in the simple pinching out of a piece of clay. Also with regards to ceramics, I see immense value in showing students where our clay and glazes originate, when possible, prompting us to consider both the ethics of extraction and the poetics of material transformation.
Finally,
I believe that how lessons are facilitated is just as important as what they contain
. I create a safe and convivial atmosphere in the classroom/studio, but it doesn't end there: I am also attuned to the particular arc of a class period or lesson, from greeting students at the start, to our movement through an exercise, discussion period or lecture, to de-briefing at the end. I see value in structuring creative or critical excercises to help facilitate discoveries rather than simply feeding students information or letting them experiment unstructured (although lectures and open studios totally have their place). As an artist and writer, I believe that form matters: this applies to my approach to teaching as well.
EXPERIENCE
See my CV for a breakdown of my education, work experience and exhibition history.

In sum, I have experience teaching painting, drawing, pottery and ceramic sculpture as well as leading gallery-based and art history centered workshops for youth. I'm also equipped to lead classes on art history and theory. I have taught adults, university students and children ages 1 - 8th grade, adapting, in every case, to each demographic's vastly different needs.
Ceramic Hand-Building and Sculpture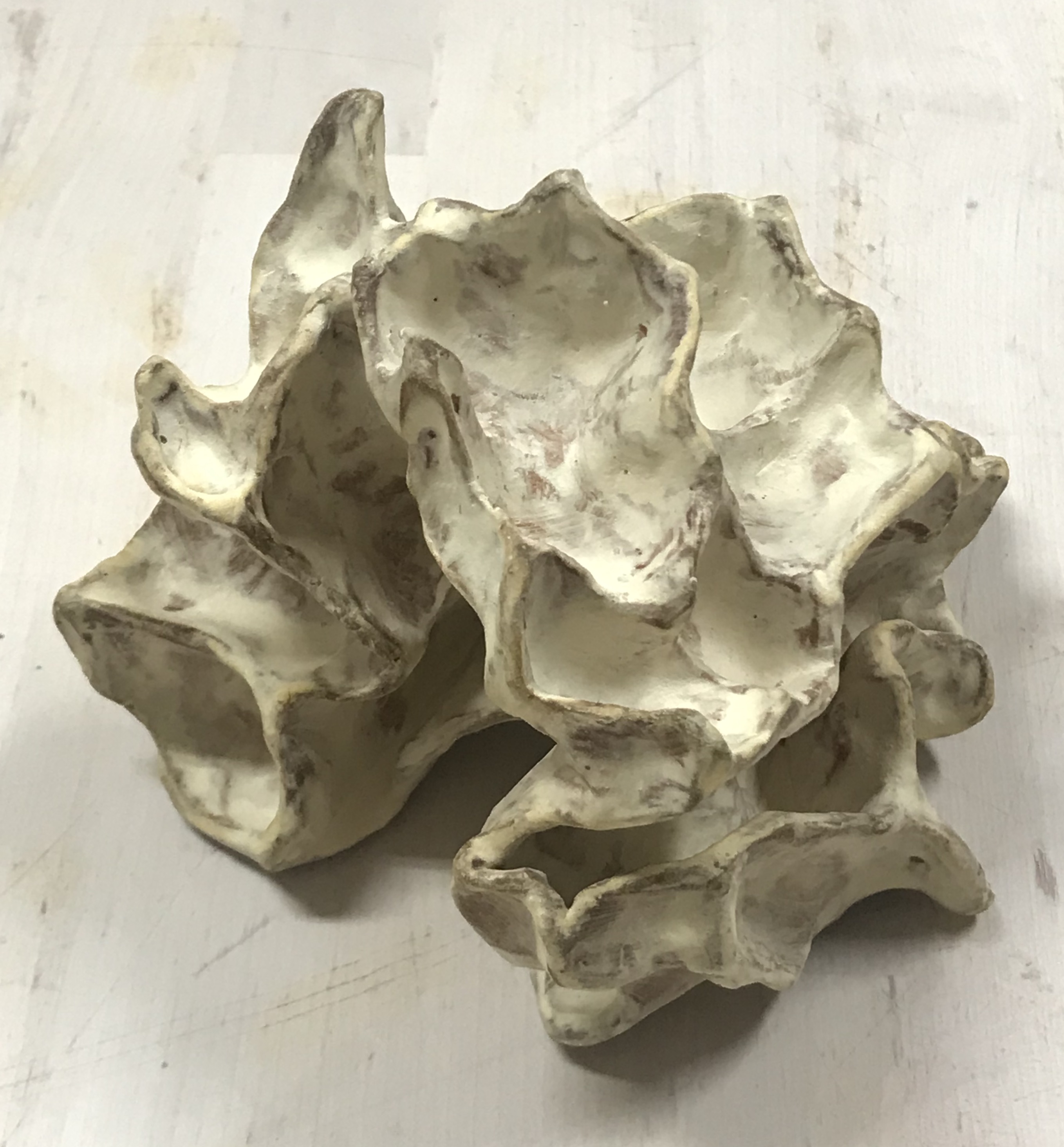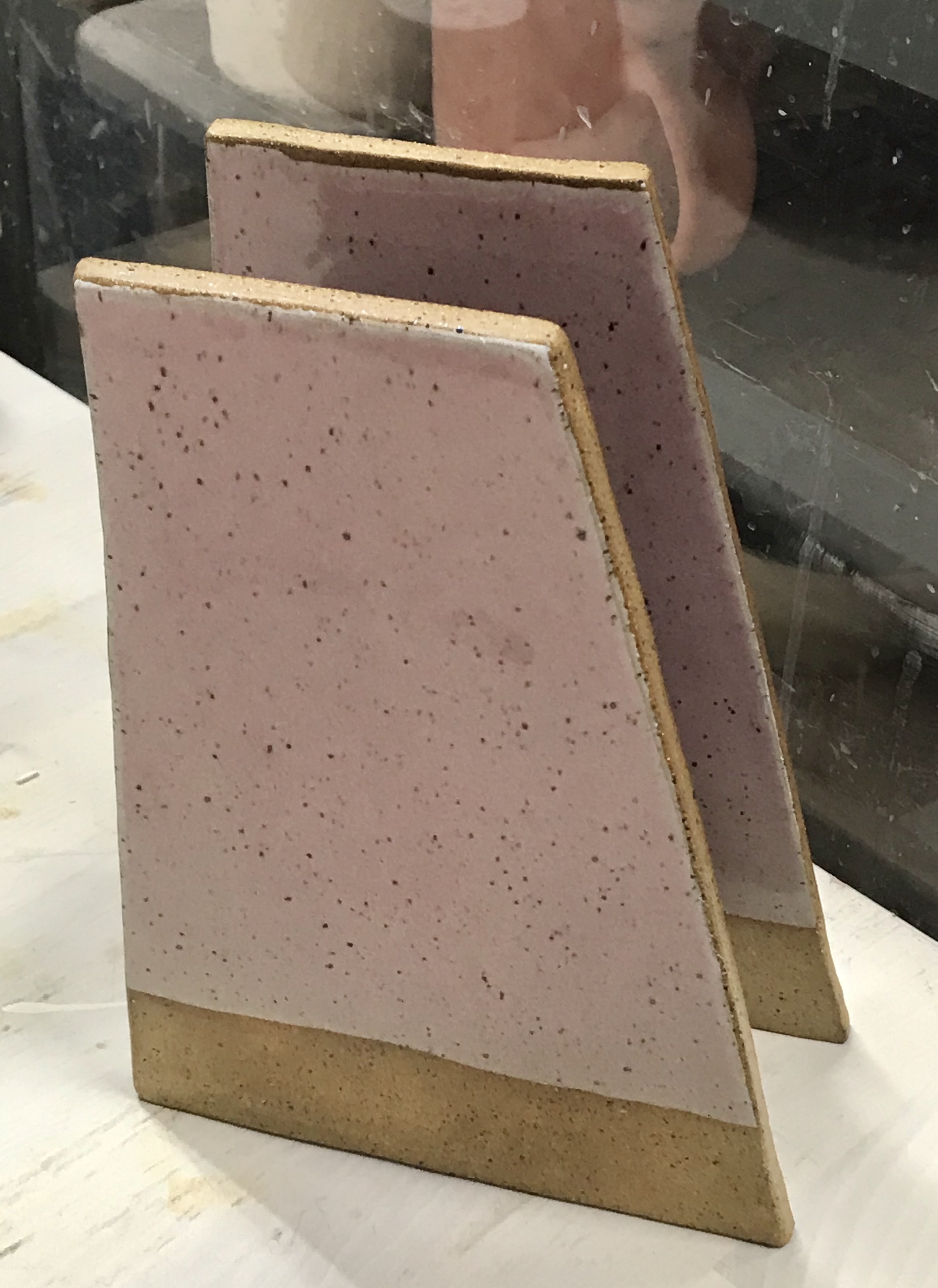 above: works by my ceramic students, all of whom had little to no experience in hand-building before taking a class with me.
As an instructor of ceramic "hand-building" and sculpture, I draw upon my background in art history as well as in years working out of various studios in New York and at residencies at vibrant ceramics hubs in Colorado and North Carolina. Having written my
master's thesis
on 20th century ceramic sculpture in the US (and its relationship to the somewhat separate field of sculpture), I'm also equipped to lecture on the topic and to facilitate workshops that integrate lectures with theory/history with related exercises. In November 2021, I piloted a course on the history and theory of ceramic sculpture at
ClayHouse Brooklyn
, whose curriculum I am now developing with the hopes of teaching it in my new city of Melbourne, Australia.
For my eight-week adult hand-building courses, I typically spend the first four classes instructing students in exercises in the basic handbuilding techniques, as well as the basics of glazing and firing. The second half of the class I tend to leave open to students to explore their own projects in whatever techniques resonate most with them. My goal is to equip students with the techniques and insight to realize their creative visions in clay, whether they favor functional or sculptural work, or a combination of the two.
Click
here
to access the course reader I've created to share with my introduction to handbuilding students.
This format for adult classes is readily adaptable to a university course, which, among other things, would have the added component of individual and group critiques. In critiques, I lead with observations before making judgements, aiming to help students more clearly see what it is they're doing.
Painting and Drawing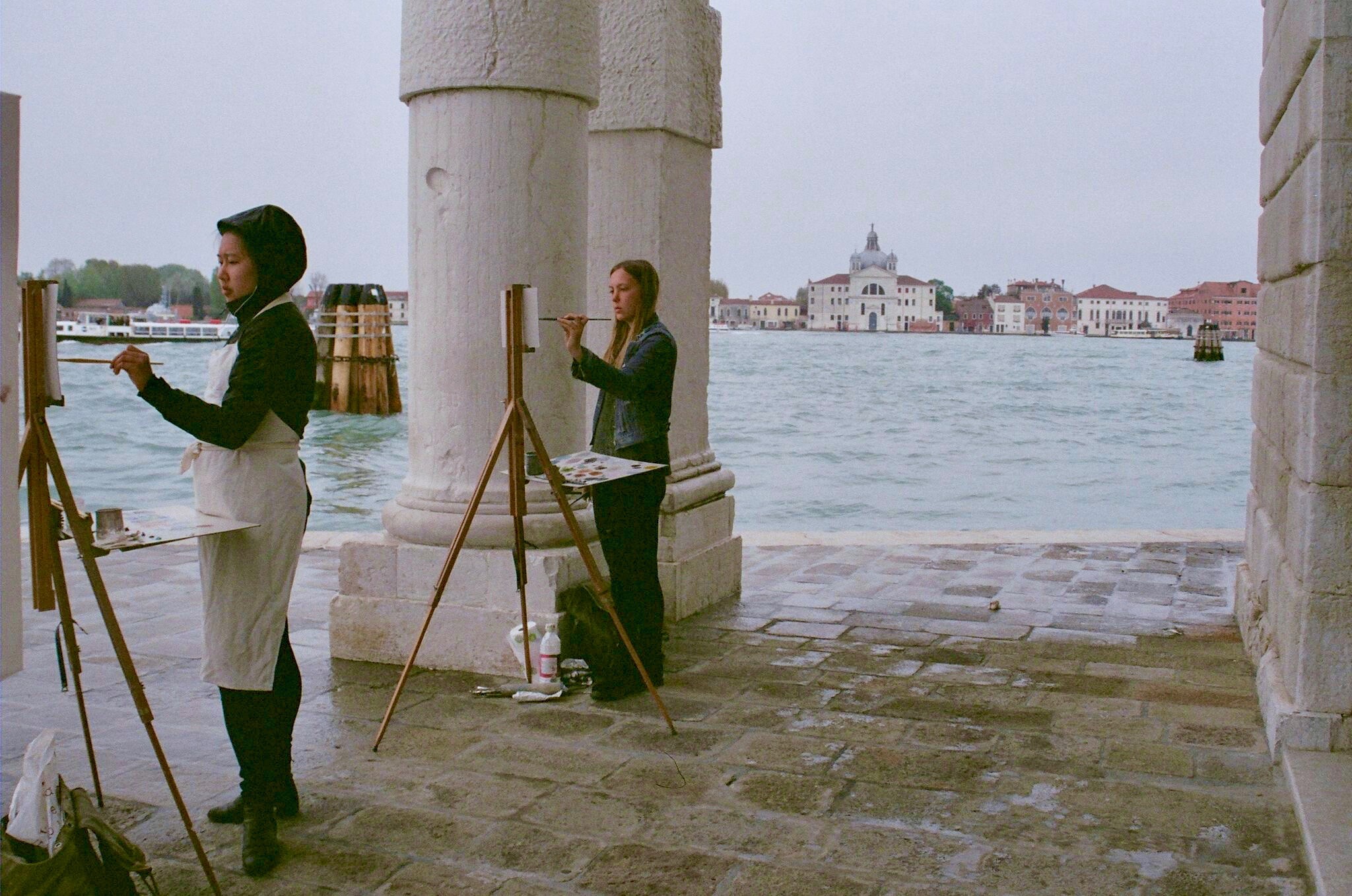 My drawing practice is rooted in a perceptual study of the visible world, a fancy way of saying that I work almost exclusively from what I see, "en plein air." This practice, along with my teaching philosophy, owes much to my time as a student/apprentice at the
Marchutz School of Fine Arts
in Cezanne's hometown of Aix-en-Provence, France. The school combined painting and drawing from life with the critical (discussion-based) and creative (with copywork) study of works of art. The development of students' visions was facilitated by a curriculum of texts that amounted to a philosophy both of craft and criticism, helping students delve into the potential meaning of properties like light, color and drawing and to consider how we might judge works of art. As an "alumni fellow" at the Marchutz School in 2014-15, I helped facilitate seminar discussions and met with the university students one-on-one to discuss their progress. In the MFA program at the
Pratt Institute
as well as as an intern at
The Drawing Center
Museum, I was exposed to an array of different painting and drawing practices, expanding my knowledge of the medium's possibilities.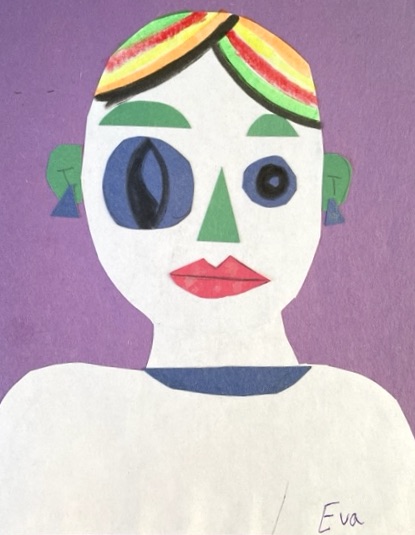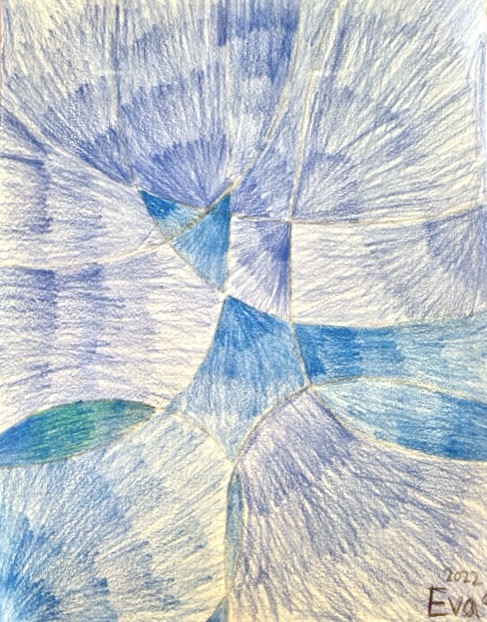 above: student work by students ages 8-9 from activities I led via Zoom with ProjectArt
Teaching children ages 4-11 at
Goose Grease House for the Arts
and later with
ProjectArt
in 2021-22, I developed other methods for teaching painting and drawing beyond working from life, something that many young kids are not yet equipped to do. While I began my teaching residency with Project Art creating lessons inspired by well-known artists and stylistic moments in world history, much as I'd done at Goose Grease House, I eventually adapted many activities from Waldorf (Steiner) School pedagogy (specifically from the book "
Painting and Drawing in Waldorf Schools
") which provides a model for explore color, form and composition, sometimes abstractly, sometimes inspired in some cases by myths/legends and the natural world. Teaching in 2021-22 at the
Brooklyn Waldorf School
I learned, among other things, the value of introducing different concepts at appropriate moments in students' personal development.
While geared toward children, many of the Waldorf School exercises particularly for the upper grades I may incorporate into future introductory or intermediate drawing/painting classes for adults. Some of them recall the abstract charcoal excercises
Georgia O'Keefe
did early in her career influenced by the philosophy of Pratt Institute professor Arthur Wesley Dow.
Art History and Museum Education for Youth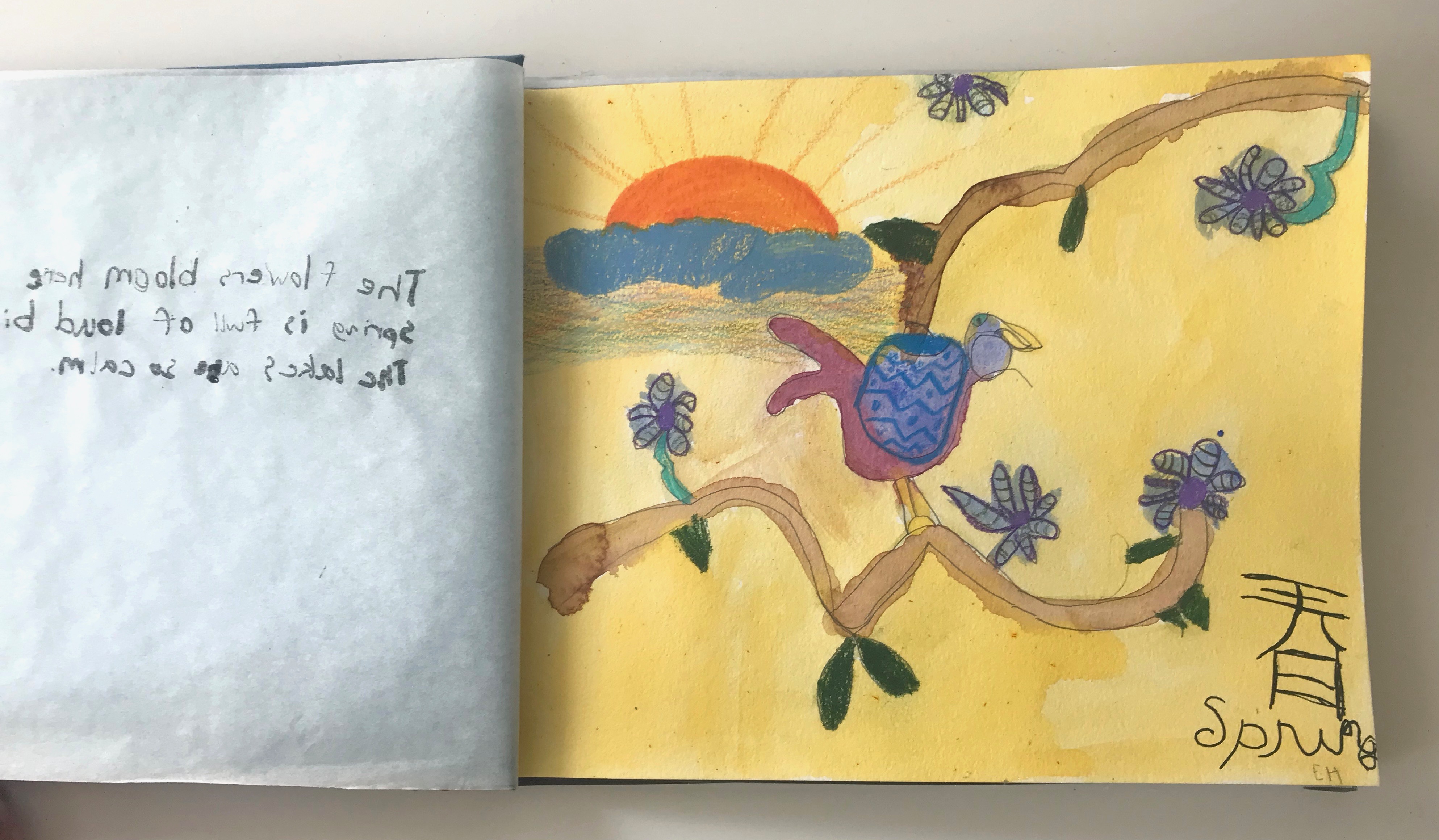 Images of a book handmade by an 8 year old from Goose Grease House's Japanese Woodblock Print Summer Camp. I planned the theme and co-led the camp.
In addition to my experience teaching studio art, I have led art activities in conjunction with lessons on historic world cultures to foster cultural and geographic awareness, whether in the context of a museum (at The Drawing Center in 2018) or after-school program (at Goose Grease House for the Arts 2020-21). In linking my art activities to lessons on artists and/or cultural movements I aim to familiarize students with how different people have seen the world and/or to help them develop a sense of their own cultural heritages while nurturing their capacities for original expression.
The following instructional art videos I created for children at Goose Grease House of the Arts in Brooklyn inspired by artifacts and artworks from cultures past. Use the password "portfolio" to watch.
Persian Miniature Painting: Art History and Art Activity
The Funeral Banner of Lady Dai (exploring symmetry): Art History and Art Activity
Japonisme: Art History and Art Activity
Color in Greek Statues: Art History and Art Activity
above: 6 year old students' symmetry paintings inspired by the Chinese Funeral Banner of Lady Dai